One month to the closure of the Original London production of Les Miz, an article that is both a love letter and a "thank you" to everyone who worked on it. Starting from Dean Chisnall and Bradley Jaden who won our hearts with their interpretations of Jean Valjean and Javert.
–> Find out how we met this fandom and fell in love with it in part 1
---
It's 2018. Six years and at least 40 tumblr-blog pages since the first time I watched Les Misérables by Tom Hooper and I finally have it. My ticket for Les Misérables at the Queen's Theatre, London.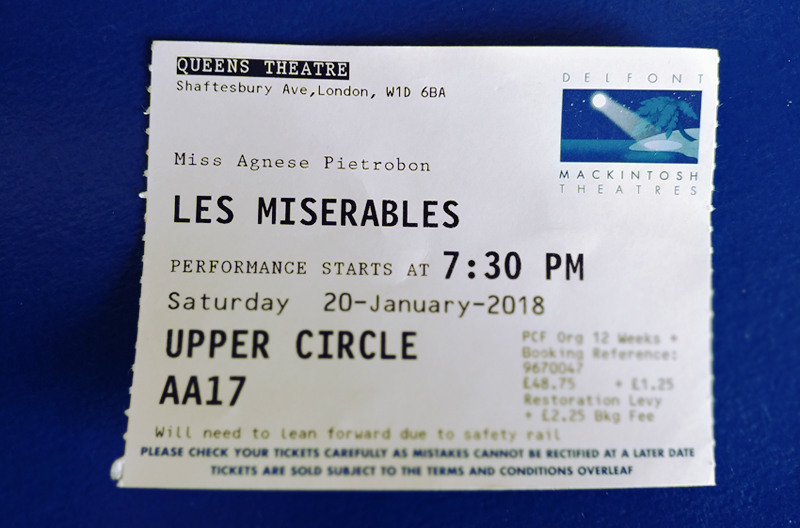 No matter what you read about the musical: know that you will not be prepared for what you'll find.
The moment you step into that theatre and see Cosette on the curtain, you have this very strong emotional reaction that will probably move you to tears if you are on the sensitive side of the scale.
Then the live orchestra – which you had not realize was going to be there – starts playing and the dream becomes real.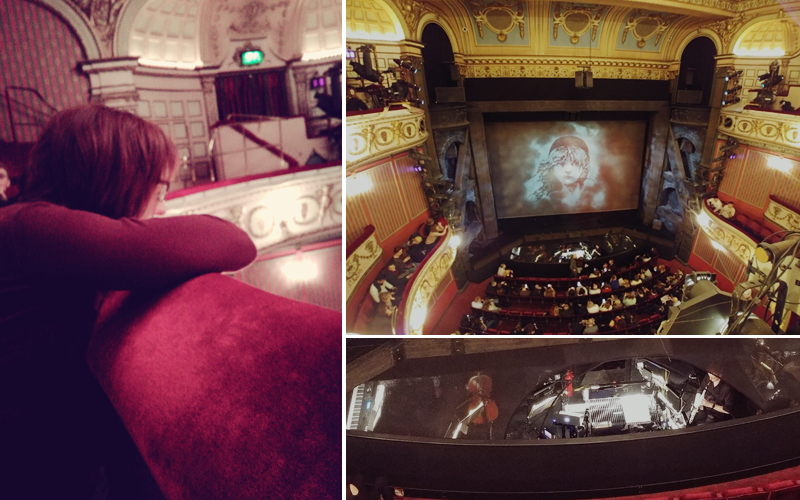 First of all, a couple of technical details: I have watched Les Miz in London twice: one from the upper circle (2018, seat AA17), one from the stalls (2019, seat G23) and if I had to tell you which one to choose for your first visit I would find it very, very hard.
On one side you have a spectacular view of everything that's happening on stage and it shocks you, so poetic, beautiful and intense it is. On the other, you have the actors and their expressions, which is another story altogether.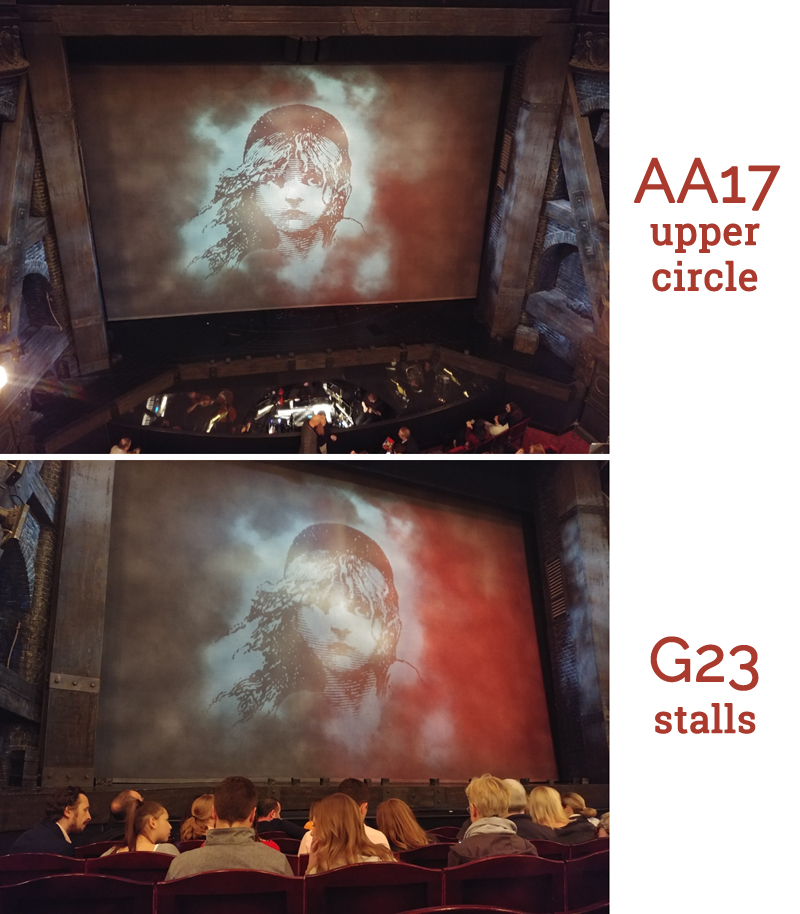 Both positions allow you to see both things, mind you, but obviously one better than the other, depending on the seat you choose. Something I personally appreciated, because it creates two different experiences, both worth going through.
What I have no doubt recommending, though? The current version of Les Miz, with Dean Chisnall as Jean Valjean and Bradley Jaden as Javert.
From fictional to real: the Les Miz of Valjean and Javert
Please, if you are a fan of Les Miz mostly because of Les Amis de l'ABC, bear with me here: I love them too – I even like Marius (…sometimes)! – and I found them all absolutely amazing at the Queen's Theatre. Yet I cannot help but focus on Jean Valjean and Javert, because these two characters are something else to me.
I could talk for hours about my appreciation for them. In few words, though: Jean Valjean is the kind of person I try to be like, in real life, and Javert the kind of character I live for, in the fictional one.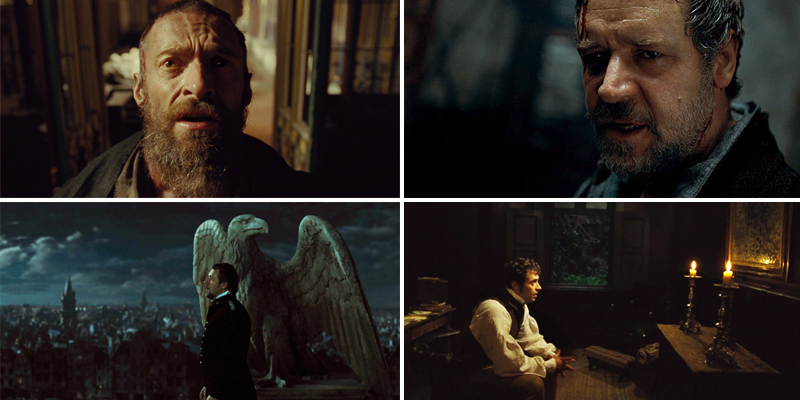 I care about them and that's why, for example, I had some problems with their characterization in Les Misérables, the miniseries by BBC. Sure, you can make them different from how I imagined them, but that something that is "pure them" needs to be there or things are not going to work.
I absolutely loved the way Jean Valjean and Javert were brought on the stage the first time I watched Les Miz in London. Javert, in particular, played at the time by the astonishing Hayden Tee, was a surprise I had not expected. An interpretation, with unexpected nuances, that I'll take with me forever.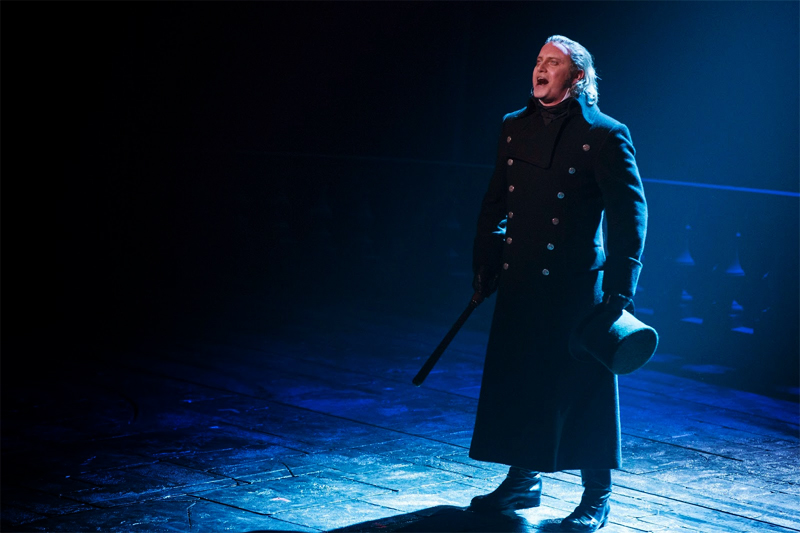 Last April, when I visited the Queen's theatre for the second time, two different actors were playing the parts. Nowadays I am a bit ashamed of myself when I remember that I did not even know them before, despite their incredible careers.
Sure, I went to the theatre prepared. I listened to Dean Chisnall and Bradley Jaden's interviews, watched them sing in the few available YouTube videos. Did my fan-job, insomma. I even have to admit that the Valvert (Jean Valjean/Javert) shipper in me ended up being happily surprised when I bumped into pictures like this one and in this video:
Anyway, it's April 26. This time I'm sitting close to the stage. I know what to expect (but for the fake gunshot which I had forgotten was there and that made me shout out loud. Apologies to the couple next to me whom I scared to death). What I don't know is if it is going to be as good as the first time.
It takes me a total of one song to realize that Les Miz London with its current cast deserves our utmost devotion. Among the wonderful actors and singers in this big world, the production found the two that could do the miracle: to take the representation Victor Hugo gives of Valjean and Javert, add to it those vibes that come from fans' interpretation of them, and bring it all to the stage. A wonderful example of understanding of who the characters really are.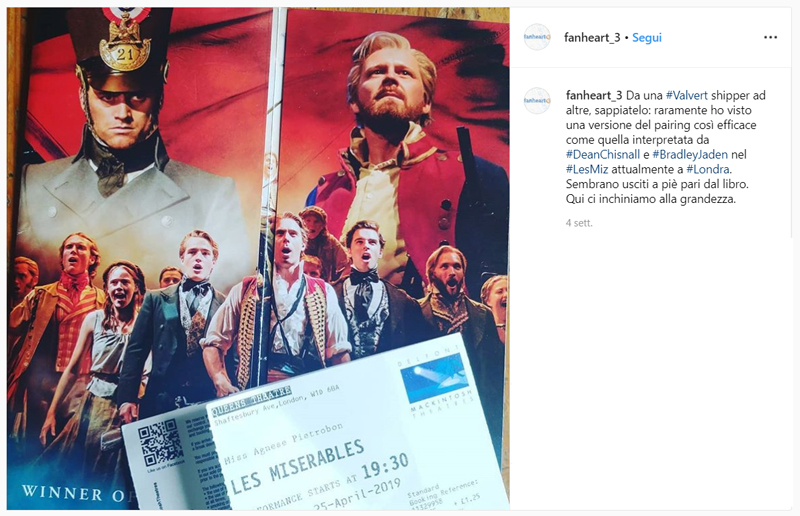 Mental imagery and fans: a reflection on Dean Chisnall & Bradley Jaden's performances
It does not matter if your passion for Les Miz was born with the Brick (aka the book) or with the face of Hugh Jackman stamped on your forehead. There's a moment when you decide what Jean Valjean and Javert look like to you and a part of you will always picture them like that.
I know from experience that, as a fan, you are ready to swear nothing will ever take the place of the mental image you created, in years, of your favourite characters. If you read Harry Potter before watching the movies, you may have liked or not Daniel Radcliffe but his casting did not completely change your idea of how Harry looked like, moved like, was like, to you.
The mental imagery of certain characters becomes even more important if you consider participatory culture and creative works produced by fans. Take a look at Les Misérables fanfictions on AO3: many of them are associated to specific tags that will help you understand which Les Miz version they are an elaboration of.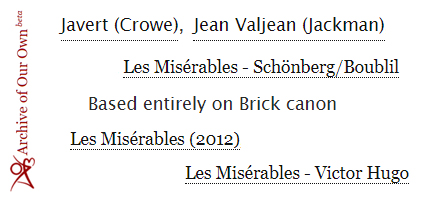 While reading these fan-made stories about Les Miz, your mind produces a specific visual representation of what is happening – as in books. Implication: if you are reading a fanfiction about Les Mis and you picture Jean Valjean as Hugh Jackman, it will be quite confusing to you if the story suddenly mentions his snowy white hair or him being smaller than Javert… even though it is canonically correct, considering the literary version of the character.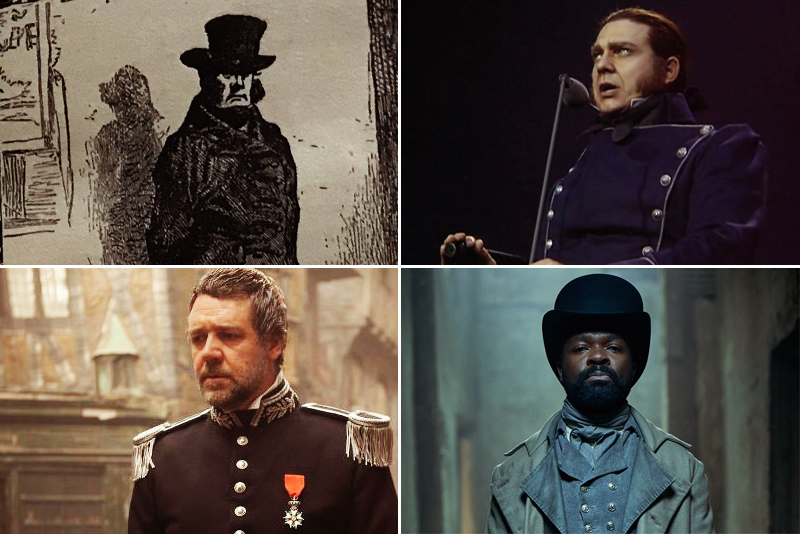 So, fans develop their own mental imagery of the characters and often stick by it forever, no matter what.
Our headcanons are carved in stone.
Why am I writing all this? Because, shockingly so, Dean Chisnall did it. He took the Jean Valjean that has been in my mind since 2012 and remade him, while making me say: oh my gosh, this is what was missing… and I had not even realized that something was actually missing.
The longer I looked at him and listened to him sing, the clearer the image of who Valjean really was to me became in my mind.
#LesMiz London at West End LIVE – https://lesmis.com/london
Everything about his performance is intense and beautiful: the physical strength he conveys, the potential for anger and the restraint he shows, the humble patience, the simplicity, the empathy he brings on the stage… And a voice that gives you goosebumps and touches your very soul. There's not a moment of the show I did not think: "This is it" for me. Nothing will ever surpass this.
His interpretation is perfectly combined with the one by Bradley Jaden, a sarcastic, younger Javert, full of passion, obsession, self-righteousnes and devastating in his pain and despair. Jaden is so effective in depicting Javert not only because of his physical appearence, that strongly reminds the one of the book, but also because of the work he does on the little details, such as the way he looks at Chisnall when Valjean arrives at the barricade. Scenes that are so emotionally charged to be breathtaking to observe.
That is why, if I could ask the Les Miz production for something, it would be to give us the video recording of even just one of their scenes (maybeThe Confrontation?). Because Chisnall and Jaden together? It is something that I wish I could rewatch and re-listen to forever.
(Cameron Mackintosh, I am subtly asking. Just so you know)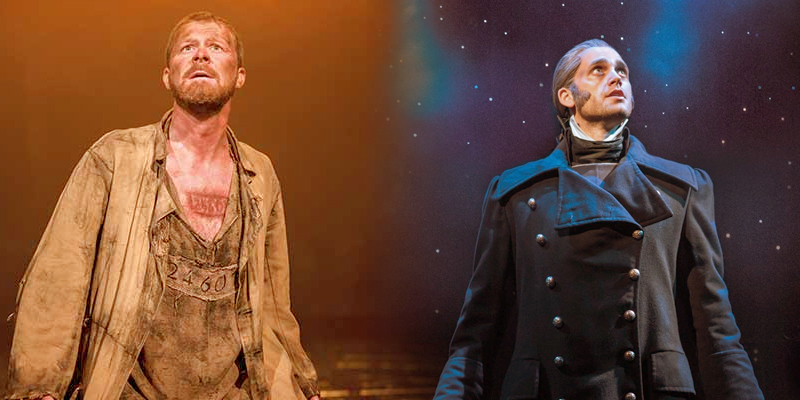 Once Alex Belfield asked Chisnall why he thinks he was chosen for this role and Chisnall replied "It's a hell of a question, one which I don't know how to answer"".
Well, Alex Belfield, we definitely do, so holler us if you want to talk about this and about Bradley Jaden, too. One thing for sure, though: we all have to thank those who made this choice. A sign of the genius of the people behind the casting of this incredible production.
Les Miz in 2019: what happens now?
You still have a month, more or less, to enjoy Dean Chisnall and Bradley Jaden as Valjean and Javert. After July 13, the theatre will close for four months of rebuilding work which will restore architect W.G. Sprague's original boxes and loges (more news in Les Miz official website).
The restored Queen's Theatre will reopen in December 2019 with the New production of Les Misérables: a version that is currently already in tour and is partially different from the one staged in London for the past 34 years. I don't know if this version will reach the peaks of the London one and, as a fan, I cannot help but being both curious and worried about what awaits those of us who have not experienced it yet.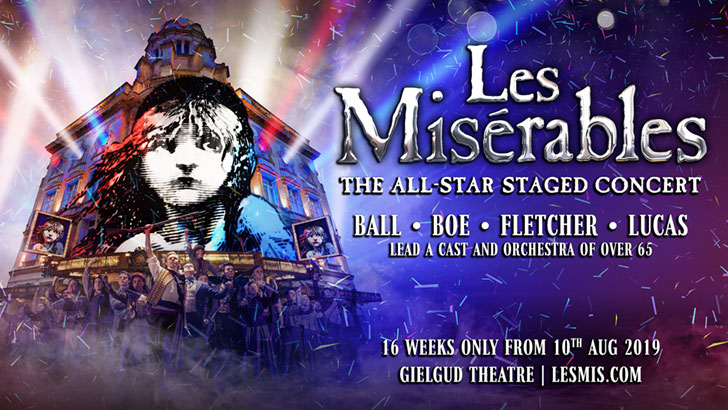 While waiting to find out more about the new production, one thing I would like to do is to thank those who have worked at this musical for the past 34 years.
From Alain Boublil, Claude-Michel Schönberg, Cameron Mackintosh and the people who believed in it before everyone else, to the last ushers that welcomed us in the theatre. Know that, no matter how big or small your role was, you made us dream the dream. And we, the fans, will always be grateful for these 34 years of "not waking up".
---
A note, at the end of this open love letter: in two days this fandom will remember the Paris Upraising of 1832, which partially inspired Victor Hugo's writing of Les Misérables.
Some time ago, I was talking with a friend about this historical event and she said "Everyone studies the French revolution, but this small insurrection? no one even knows it's something different. It did not change anything and it's sad to think they died for nothing".
But it is not so. More than 150 years have passed and we are here, still talking about those days. We think about the lives of miserable people who needed a different society, remember gamins and young beautiful girls who did not have other choices, find out that some things have not changed at all and probably never will, while others are trying to.
Yes, Victor Hugo was the one who brought this story to our attention. But Les Misérables the musical kept it alive and vibrant. And, in doing so, it showed once again that art and culture do change the world and make it better, because they teach people to want it so.
So thank you, Les Miz. It was an honor to meet you.