Among the collateral awards of Venice Film Festival, a new award will be assigned to movies that have the potential to become relevant to fan culture. The jury of the cultural association Fanheart3 will award three prizes from a shortlist of twelve works presented at Venezia76.
Leggi l'articolo in italiano qui.
Fanheart3 Awards will be among the collateral awards of the 76th edition of the Venice International Film Festival to give recognition to movies relevant for fan culture.
In the past decades, fan culture has brought a profound change to the concept of audience: from a passive entity, the audience has come to be recognized for its active influences on media production (from movies to television, and beyond), due to fans' artistic and intellectual reworkings of the source material. Fanheart3 was founded with the aim to spread fan culture knowledge and participatory culture dynamics. 
A selection of 12 movies presented at Venezia76 will compete for the Golden Clip, assigned to the movie with the highest potential of becoming a cult movie among fans, and for the Silver Ship for best OTP (One True Pairing), assigned to the couple of characters (actual or potential) that is most interesting for the narrative dynamics that characterize their interactions. A third award, the VR Fan Experience, will go to the work in virtual reality closer to fan culture's themes and contents in a shortlist of ten selected works from the VeniceVR section.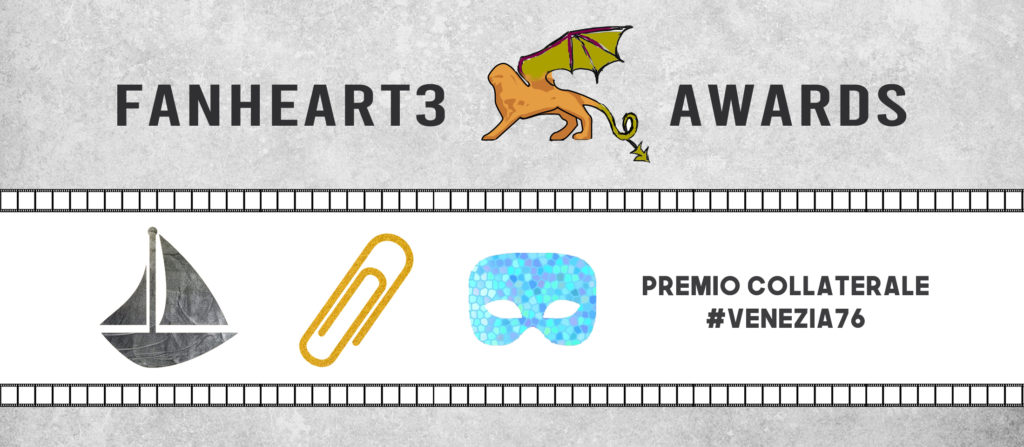 The Fanheart3 Awards jury is all-female, made up of Agnese Pietrobon, President of Fanheart3, Susanna Norbiato and Cristina Saccon, founding members, and writers Sara Boero and Francesca Bulian.
Fanheart3 Awards are a very important moment for our association and we are happy and honored to join the Venice Film Festival as a collateral award: it is a precious opportunity to talk about fan culture and to spread its values and its contents to a wider public. 
Here you can find the movies and here the VR experiences nominated for the fanheart3 awards.
The 76th edition of the Venice Film Festival will take place in Lido, Venice, from August 28 and winners of Fanheart3 Awards will be announced on Saturday, September 7, on the closing day of the festival.